ISCB SC RSG Türkiye has become a paramount student initiative, organizing events that contribute to the developing computational biology and bioinformatics society in Türkiye. We organize student symposiums attracting undergraduate and graduate students since 2012. We have been organizing our symposiums as satellite meetings to HIBIT (International Symposium on Health Informatics and Bioinformatics), which is the biggest bioinformatics meeting in Türkiye. Being less formal and student-oriented organization, our student symposiums have been successful in encouraging early career researchers to meet and exchange their expertise in the area. Indeed, thanks to the previous symposiums, the active core members of the RSG Türkiye has been growing regularly. So far, we had the symposiums in Cappadocia, Ankara, Mugla, Cyprus, Antalya, Izmir and ONLINE with the participation of students from different parts of Türkiye.
We also thank ISCB SC and HIBIT 2023 Committee for their kind support.
Follow us:
Facebook 
Twitter
Instagram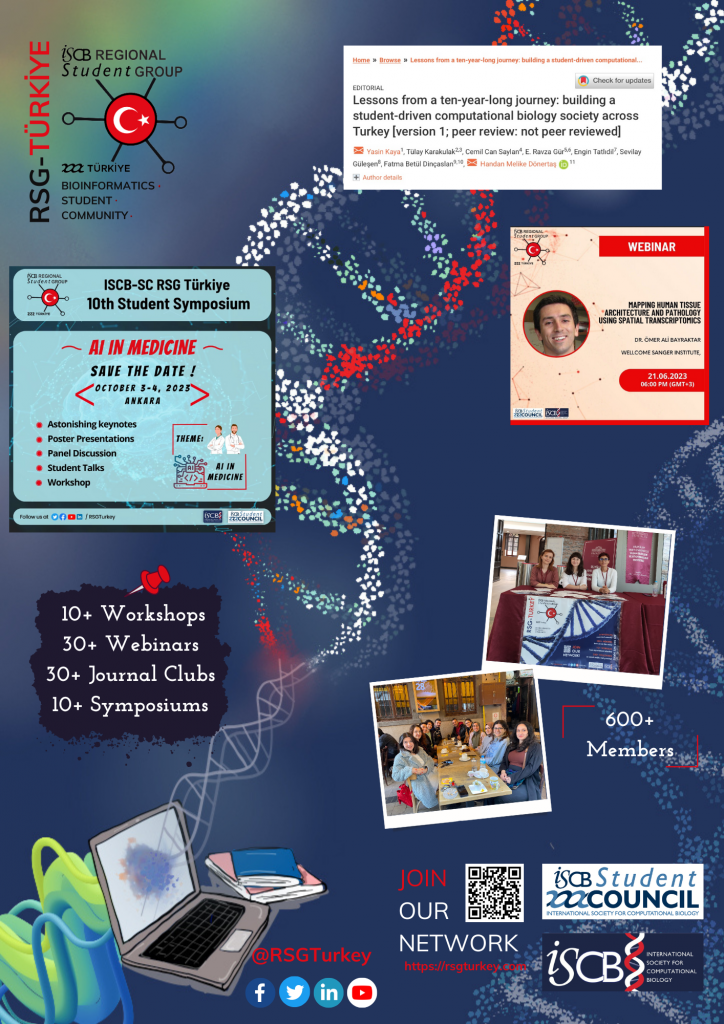 About Symposium Fee
We are thrilled to announce that our symposium operates on a non-profit basis!
THERE IS NO REGISTRATION FEE!
Don't forget to register!! Our mission is to foster knowledge sharing and collaboration among passionate minds in the field, and we want to ensure accessibility for all!
Mark your calendars: October 3-4, 2023 in Ankara, Türkiye.
Don't miss out on this golden opportunity to connect with leading experts, gain valuable insights, and network with fellow enthusiasts! Stay tuned for updates on our incredible lineup of speakers, engaging workshops, and thought-provoking discussions!
Share the news with your friends and colleagues and spread the word! Let's make this symposium an unforgettable experience for everyone!