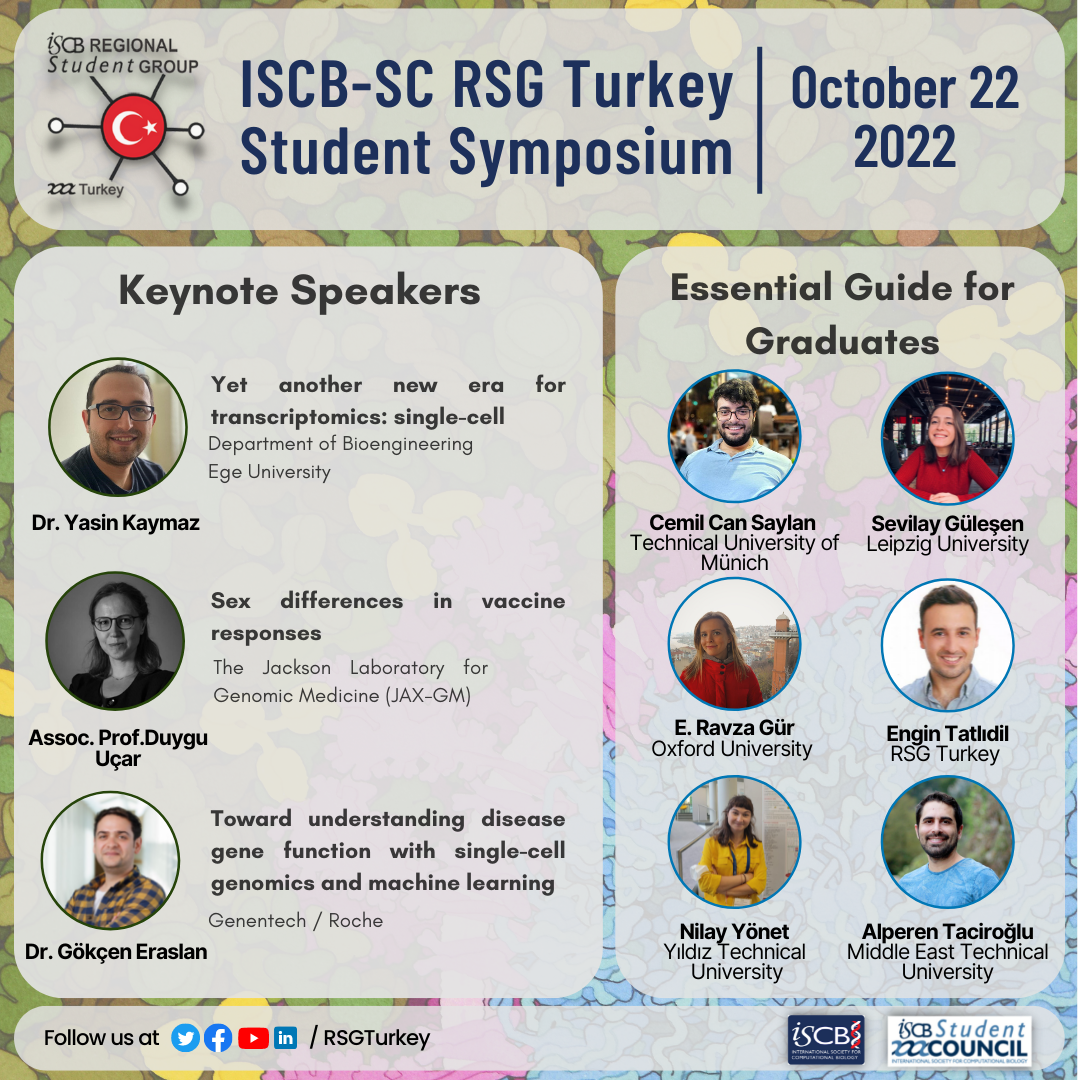 ISCB SC RSG Turkiye
ISCB SC RSG Turkiye has become a paramount student initiative, organizing events that contribute to the developing computational biology and bioinformatics society in Turkiye.
We organize student symposiums attracting undergraduate and graduate students since 2012. We have been organizing our symposiums as satellite meetings to HIBIT (International Symposium on Health Informatics and Bioinformatics), which is the biggest bioinformatics meeting in Turkiye. Being less formal and student-oriented organization, our student symposiums has been successful in encouraging early career researchers to meet and exchange their expertise in the area.
About Symposium
22 October 2022
RSG Türkiye 9th Student Symposium
Dr. Yasin Kaymaz, the first speaker of this year's symposium, was with us with his presentation "Yet another new era for transcriptomics: single-cell". Dr. Yasin Kaymaz who is an instructor at Bioengineering Department of Ege University, has been involved in joint studies focusing on data generation, data analytics, and method development, especially for NGS (next-generation sequencing). He highlighted the shift from tissue-level averaged-out transcript signal measurements to a single-cell era, where individual cells are treated independently. He highlighted the importance of transcriptomics in cellular regulation and the shift towards single-cell analysis. He acknowledged existing challenges and the research team's efforts to overcome them, particularly in the context of investigating tumor-associated macrophages in lung cancer. Dr. Kaymaz focused on his research perspective centered around single-cell sequencing applications and future projections.
Dr. Duygu Uçar, our second keynote speaker, presented "Sex differences in vaccine responses". Dr. Uçar, who is a group leader of the Ucar Lab at The Jackson Laboratory for Genomic Medicine (JAX-GM), studies on how epigenomic landscape of human cells -especially immune cells- are remodeled and disrupted with aging and aging-related diseases. Dr. Uçar and her team examined antibody responses and peripheral blood leukocyte composition in healthy older adults before and after vaccination. The speaker highlighted women had higher levels of Th1/Th17 cells and showed a stronger response to Prevnar compared to men.
Dr Gökçen Eraslan, the last speaker of our symposium, was with us with his presentation "Toward understanding disease gene function with single cell genomics and machine learning". Dr. Eraslan who is Senior AI Scientist at Genentech/Roche focuses on developing methods of statistical and machine learning to solve problems in single-cell genomics and human genetics. Dr. Eraslan and his team aim to characterize different types of molecular measurements, such as gene expression, from a large number of cells. The Eraslan lab operates at the intersection of machine learning and single-cell genomics, contributing to the emerging field of computational biology.
In this year's symposium, we included "Essential Guide for Graduates" speeches. For this, A.Dilan Kıran from Ege University, Sevilay Gülenler from Leipzig University, E.Ravza Gür from Oxford University, Nilay Yönetim from Yıldız Technical University, Alperen Taciroğlu from Middle East Technical University and Engin Tatlıdil from RSG Turkey team told our participants guided.